Service Plan for Your Written Content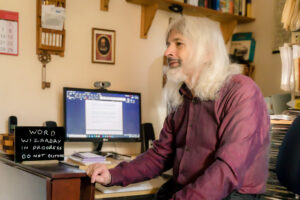 If your business is going to stand out from the crowd, it's essential that your written content is modern, up to date and relevant in today's market place.
The ideal answer is for me to write your content for you, but perhaps you don't want to go that far. You may feel you want a more direct input, or you may be concerned about budgeting — but you still need that magnetic quality in the writing.
This is why I'm now offering a monthly service plan. For just £45 per month, I'll read through and tweak what you write, turning it from good content into great content.
The kind of written pieces you might want to run past me could include:
website content
blogs
email marketing
crucial emails
social media posts
brochures
leaflets
This isn't an exhaustive list, however. If you have other written content to be checked, it's likely that I can work my wizardry on it.
So you get a professional polish on your marketing content, all for an easily affordable monthly fee of just £45, with no unexpected figures appearing in your debit column.
Terms & Conditions
A contract shall be drawn up and signed between Nick Blatchley Copywriting and the client. These Terms & Conditions shall considered to be part of that contract.
I'll read through existing content and suggest alterations, including grammar, spelling, effective vocabulary and presentation.
The Service Plan does not cover substantial rewriting.
The total amount you may submit to me in a month shall not exceed 3,000 words. The month shall start from the date of your payment.
A monthly fee of £45 shall be paid via GoCardless on a date to be agreed in the contract.
You may cancel your Service Plan at any time by giving one calendar month's notice.
All relevant parts of the general Terms & Conditions for Nick Blatchley Copywriting shall apply to the Service Plan.